Recently I learned from Seth Godin's blog that the word abracadabra is thousands of years old. It probably comes from the Aramaic: "I will create it as I speak." As I go all over helping people tell their stories, I become ever more invested in the notion that we create the world we want through storytelling.
A year ago this week, we were in the thick of things with shelter-in-place under the COVID-19. And, I was also in the thick of things with Shelter & Place, the project I conducted with teens and young adults who were building their way out of being unhoused. It was a gorgeous manifestation of so many things coming together. That night, when I got home from our performance, I learned that John Lewis had taken his leave from this plane. Such a heartbreaking downshift from the triumph of the night.
Not long after that performance, one of my colleagues on the GCDD Storytelling Project called me up to say that she'd been watching and paying attention to Shelter & Place. Given the challenges of working with people who have intellectual & developmental disabilities in the pandemic, she wondered if it might be a template we could use for another project.
Hence, Treasure Maps was born! You may remember from my earlier post that we especially wanted to bring these stories in and put them at the center of the spotlight in our communities. On further reflection, though, I think that stories are only marginalized if we think of ourselves at the center. The project was called "Treasure Maps" because of the life maps process of helping people discover and cultivate their stories, but also because we were on a journey both physical and metaphysical to uncover the best stories.
Now, here I sit, all these months later, with many miles traveled and so many stories to tell. We filmed 10 storytellers, created one audio story "bonus track, and held 6 pop-up shows in Columbus, Savannah, Macon, Athens, Dahlonega, and Atlanta. Along with the long-term partners, L'arche Atlanta and Resurgens Impact Consulting, we had countless partners along the way. Thanks to indomitable local teams, each show was like its own mini-festival, featuring some combination of food trucks, local bands, and art vendors.
Am I exhausted? Yes. Would I do it again? 1000%.
Now, I'm pleased to bring you the full Treasure Maps film, available for viewing on YouTube: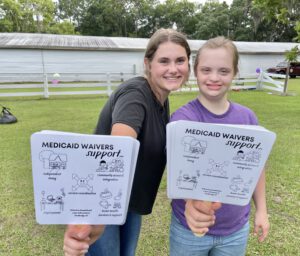 This was one of my more fun ideas. We wanted to help educate people about the Medicaid wavier. At some point, one of our local team members mentioned that he was afraid it might be hot to sit outside and watch the show in the evening. I joked that we should have "church fans." And then it dawned on me that we could print those fans with information about the Medicaid wavier! Many puns about the show being "fantastic," and "wavers," and being "a fan" have ensued."
Harkening back to earlier versions of the Storytelling Project when we made Hidden Voices, we also created a bonus track / audio story for folks to listen to on the way to the show with hopes that we were making Treasure Maps a full sensory, immersive experience.
The north star for this project has always been to help create a more inclusive Georgia and to bring a strong advocacy voice to the Medicaid waiver, which helps people with developmental disabilities live independent, actualized lives. And, you know, for me, it was a journey that started long ago.
The problem with the word abracadabra is that people think it just means magic, which is something we tend not to believe in these days. I'm rather of the belief that speaking our truths into the world, and truly hearing the stories of others, does take some work, but then the magic happens…