Virginia Tech: Resilience, Remembrance, Reflection
Over the course of the 2016-17 academic year, I returned to Virginia Tech/the New River Valley, where I had lived for ten years as a young adult, to do a storytelling residency about Resilience, Remembrance, and Reflection for the ten-year anniversary of the shootings that happened there in 2007.
The residency included three one-week engagements in November, March, and April, each week consisting of workshops, guest lectures, community meetings, and public performances. To cap off, I directed a storytelling show, Stories of (Be)longing at The Lyric Theatre on April 16, 2017. Read more here from my blog about the early phases of this project.
Partnership
Most any project I do involves partnership.  We were financially supported by a grant from Alternate ROOTS and by the Moss Arts Center at Virginia Tech. The project was fiscally sponsored by and also in partnership with The Lyric Theatre in Downtown Blacksburg.
Ultimately, Jon Catherwood-Ginn at the Moss Arts Center and Holly Lesko (who wears so many hats in the community and on campus it's hard to say who she represents at any one time) were the ones who had the vision to bring me in and who worked with me closely across the year.
The Show
Stories of (Be)longing took place on April 16, 2017, the actual day of the ten-year anniversary of the shootings. In a weekend jampacked with remembrance activities all across the university campus, our event was unique. Eight storytellers reflected on a variety of experiences from growing up queer in Blacksburg the child of evangelical preachers to moving into the community in those first few months just after the shootings, from losing a parent on that fateful day to jumping out a window to stay alive. Although it was one of my first shows under the banner of StoryMuse, it remains the most powerful to this day.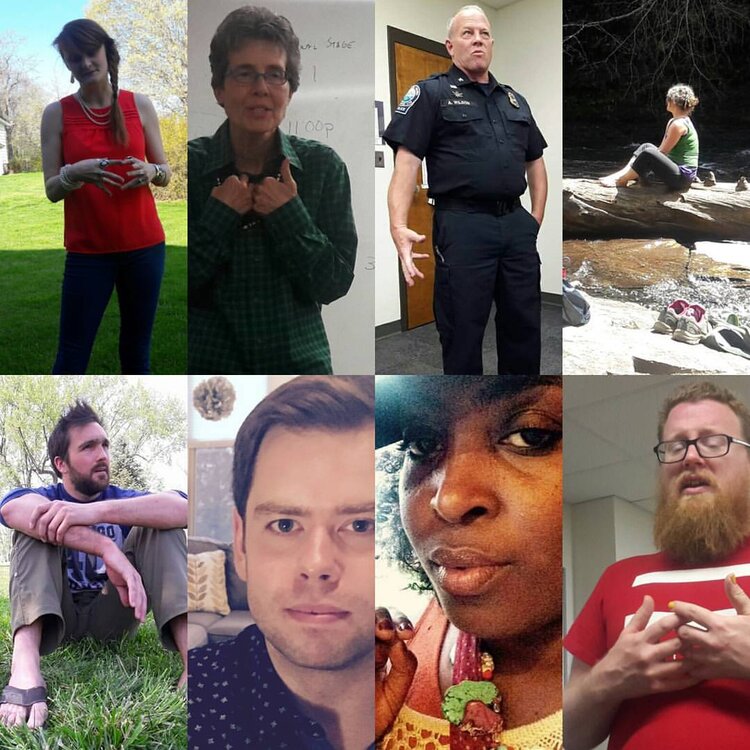 The emotional gravity of such an undertaking necessitated an enormous amount of patience, trust-building, care, and commitment–all of which Shannon demonstrated in spades. Shannon listened deeply to and honored the needs of participants and us, the commissioning arts presenter. Consequently, we all seemed to grow through the process Shannon facilitated. As a story coach, she maintained high expectations for participants, always leavened by love and understanding for the complex emotions one tangles with when preparing personal stories for performance.
Holly & Jon on our final reflection "walk & talk" meeting at Heritage Park.