A few months back when I published my Pandemic "Play" List about all the ways I've been getting through this last year, I forgot to mention podcasts.
Of course, my love affair with podcasting is deep and abiding, dating back long before 2020. As a single person who lives alone, they are sometimes the only way I can keep myself centered in those long stretches of time when otherwise I might drive myself insane. (I don't know about you, but sometimes I find myself to be the most annoying person in the world!)
When I can't find someone else to go on a walk & talk with me, podcasts are the alternative companion. Often, when other people bring up a book or TV show as conversational tidbit, I counter with something I've been listening to.
As a result, I've come to understand people are turning to me somewhat as a curator of "what to listen to." In fact, one of my gym buddies (back in the day when going to the gym was a thing) turned to me and pointedly and said, "I think you should publish a regular Shannon Recommends listening list because I always have this instinct to call you when I want to find a new podcast."
Of course, it should come as no surprise that the times in my life when I was on the other side of the microphone—especially I was doing North Avenue Lounge and Hidden Voices—were when I felt I was operating at my nearly highest purpose. When I've had the good fortune to be a guest on other people's shows has also been a total thrill. There've been two lately (Ritual and Playing 4 Keeps); a third is coming up next month.
I recently took a virtual walk & talk with a new colleague, a person who's a little bit woo-woo, and when I told her about all the audio work I'd done in the past, and about my ideas for the next couple of podcast projects I'd like to make, she stopped me right in the middle of what I was saying. "I can see very clearly that some kind of radio or audio career is very much in your future."
It zinged me to the core!
This week, I'm dedicating all of my social media to the art of digital audio storytelling (aka podcasting). There is a traditional nationwide time for this called #CelebratePodcastingWeek. I missed it. But, I will honour Celebrate Podcasting Week in my heart, and try to keep it all the year. If you follow my social media, please tune in as I talk about some of my favorite podcasts and the particular episodes that have recently inspired me.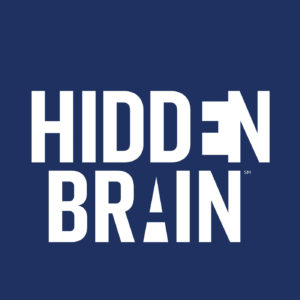 To start us off, one of my very favorite weekly listens is Hidden Brain. I usually listen to it immediately after popping up in my podcast feed. I think Shankar Vedantam is a masterful storyteller, so humble and clear about trying to help us all be better humans by journeying into our most interior spaces, one week at a time.
It's a particularly timely moment to make this recommendation because Hidden Brain is currently in the middle of a three-episode arc on storytelling. Just read the description for second episode, "The Story of Your Life":
We can't go back and change the past. We can't erase trauma and hardship. But what if there was a way to regain control of our personal narratives? In the second part of our series on storytelling, we look at how interpreting the stories of our lives — and rewriting them — can change us forever. 
So, if we're not already connected on social media, let me recommend that this is a great time to get started. I don't want you to miss a single day of the journey. You can find and follow me at Facebook, Instagram, and LinkedIn.
And, speaking of podcasts, as they say at the end of The Moth Radio Hour, I hope you have a story-worthy week.