2021 ANNUAL REPORT
StoryMuse Turns … FIVE!*
(*don't miss the special 5-year celebration at the end)
Treasure Maps:
The Georgia Storytelling Roadshow
Pittsburgh:
Past, Present, Future
Listening from our deepest places…
I tend to tell this story a lot in my workshops when we talk about the need for deep listening.
When I was a young girl, I started to notice in the adults in my life this one particular phenomenon. They would be visiting, telling stories about their families, their days, their pain, and then, inevitably, someone would start to respond simply with, "Uh huh, uh huh, uh huh." Perhaps that person would sit forward and place hands on knees, or even stand up and rock side to side. "Uh huh, uh huh, uh huh."
I think I must have been about fourteen or so when I finally understood with absolute clarity that the dialogue had ended, all listening had ceased. Nodding and giving mild verbal cues is polite society's way of pretending when we are not really engaged.
On the other hand, I remember a twenty-four hour period of time when my friend, Emily, and I, on a weekend home from working at camp, stayed up all night talking, sharing stories from our lives. At one point, I told her I needed to go to sleep, and she said, "You could, but…we could also go to Waffle House!" With that, she called me forth into adventure.
Over the last five years, as I have gone all over, helping people tell their stories for personal, professional, organizational, and community development, my work has boiled down to two salient tenets:
1. We need to hear better stories. Netflix and Disney+ and so many other capitalist forces have systematically stolen our stories away from us, selling them back in algorithmic pieces. But we own our stories, and it is incumbent upon us to seek out, find, and hear the stories we don't always hear when powerful forces with an agenda keep those voices away from our arenas.
I chose personal storytelling as my mission and as the means I wanted to work for us to hear each other and connect. There are many ways to do this. Find yours. Practice it often. Share it with others.
2. We need to hear stories better. Those same forces, along with the greater distraction machine, is making it more difficult for us to sit with and simply listen to each other. In that same way that my family used to swap stories, I want to help us reinvest and rebuild a storytelling culture. 
By that I mean we must wake up, recognize, and dismantle the kind of storytelling that's happening all around us where fake, fear-driven narratives are being weaponized. Instead, we must catalyze the moments, the places, where our authentic selves meet each other in awe and awkwardness, in grief and growth.
On to the great big next…
Shannon
2021
By the Numbers
__________________________________________________
21
WORKSHOPS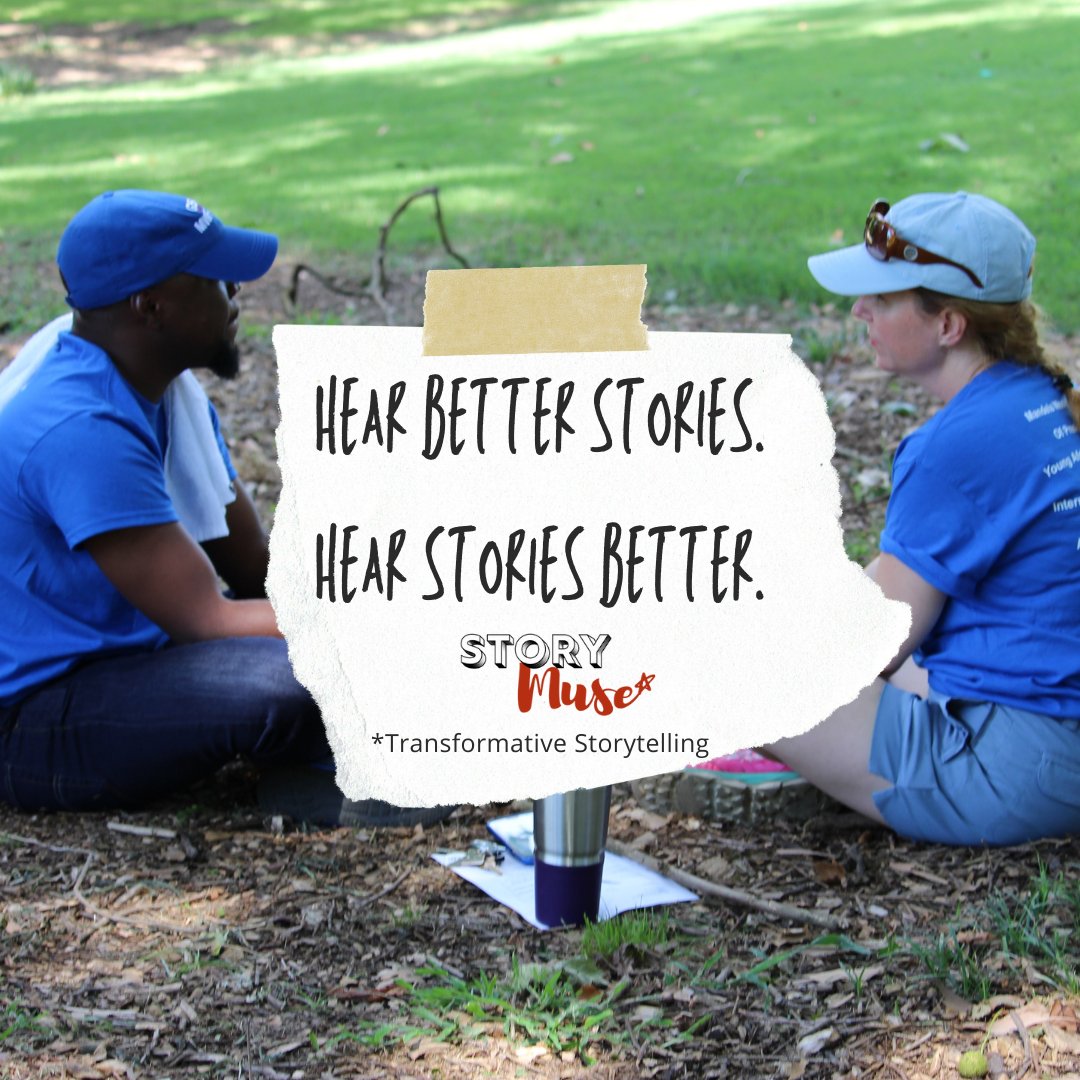 Helping People Tell Their Stories For Personal & Professional Development
My overall coaching hours bounced back in a big ol' way this year as we entered into this new world known as hybrid! I worked with all sorts of interesting different kinds of people, including…
a visual artist who wanted to develop her story about struggles with mental health for an upcoming performance
an author whose book is launching next year wanting work on how he'll tell his own autobiographical story when he's on media tour
a folklore storyteller who wanted to get better at wrangling and telling her own stories
Earlier this year, I launched my digital curriculum on Udemy, The Story Sandwich!! In just under half an hour, you can follow along with my best-loved tips for how to build a personal story you've always wanted to tell, one delicious, nutritious ingredient at a time. Click here for a limited time 2021 Annual Report 50% discount!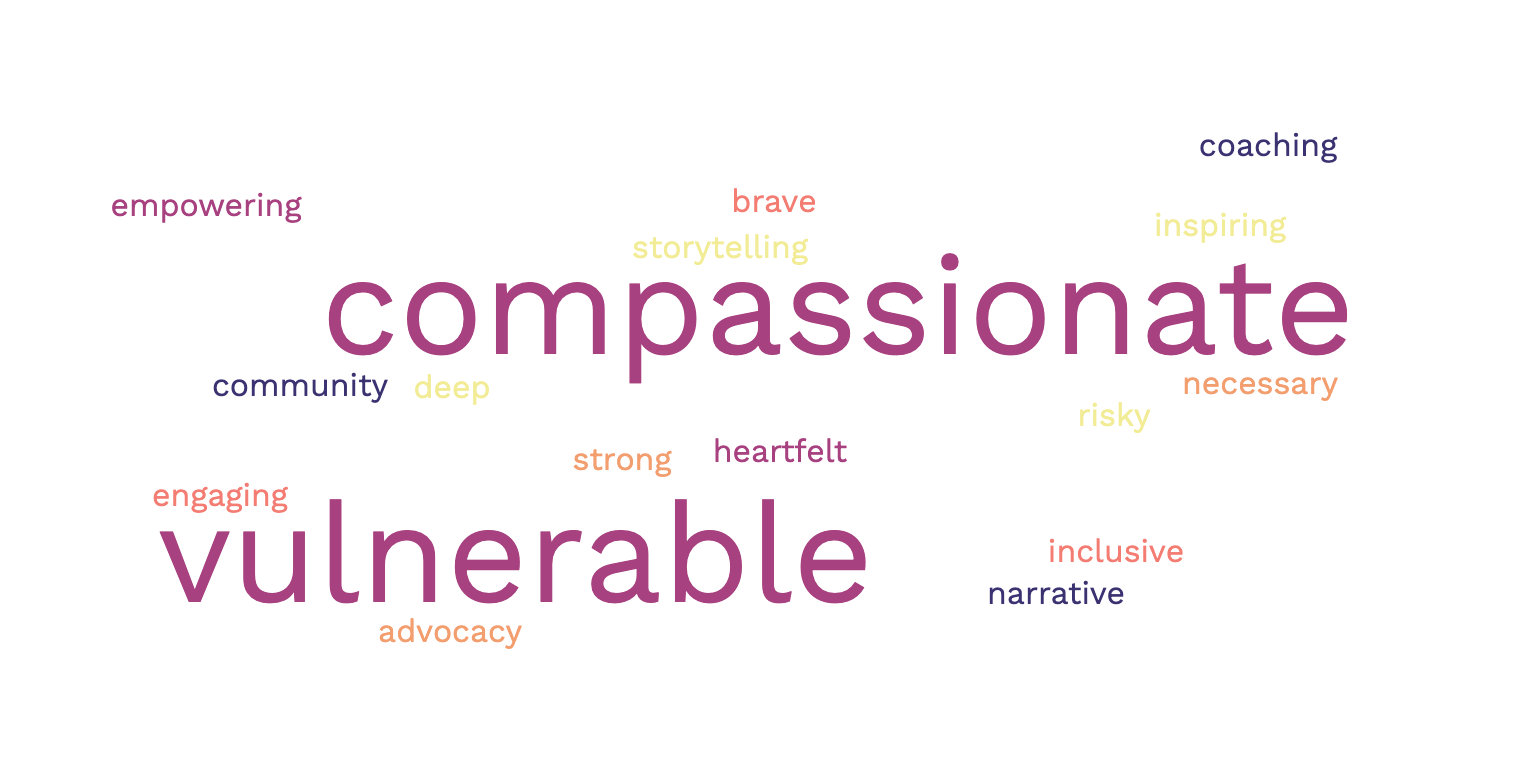 *These are words that some people who follow StoryMuse said they associate with the work.
When I was granted the opportunity to tell a story about the most difficult and painful time in my life at Storytellers Macon, I wanted to make sure I did everything in my power to "get it right." After seeing how Shannon conducted a Georgia Council on Developmental Disabilities series and then being a participant in a workshop she put on in Macon, I knew she was absolutely qualified to help me do my best in recounting the events and consequences of my life forty years ago. I reached out to her for help, and she readily agreed.
Ms. Turner's education and knowledge is a matter of fact. Her real-world experience and success are well documented. I can testify that in preparing for my story she brought a special mixture of storytelling discipline, objectivity, and good old southern charm that puts you at ease and enables you to ask questions and explore ideas without any fear or embarrassment.
After my performance, I received an email that said simply,"You were spectacular!!!"
Thanks, Shannon!
Treasure Maps:
The Georgia Storytelling Roadshow
Pittburgh:
Past, Present, Future
Returning to one of my best-loved projects, the Georgia Council on Developmental Disabilities and StoryMuse went back to work again, helping to tell the stories of people with intellectual and developmental disabilities. This time, we took our show on the road.
After a statewide call in February for storytellers who had intellectual or developmental disabilities, I hosted a free sample storytelling workshop for any and all interested participants. We had 70 participants on that first call! A little more than 30 folks applied thereafter.
In the end, we selected 10 storytellers. Throughout Spring 2021, I provided several group workshops and individual coaching sessions before we arrived in the storytellers' cities for filming in early May.
In late June / early July 2021, we hit the road again to host six pop-up shows in Columbus, Savannah, Macon, Athens, Dahlonega, and Atlanta!
Along with the long-term partners, L'arche Atlanta and Resurgens Impact Consulting, we had countless partners along the way, especially Xerophile Studios, who made our gorgeous films. Thanks to indomitable local teams, each show was like its own mini-festival, featuring some combination of food trucks, local bands, and art vendors.
Read more, see more photos, and watch the film on the Treasure Maps page.
"A lot of times when you come to things like this, you see a lot of the same people that you know. This is new folks, this is different people. So I think this is a lot more inclusive of more than just moms, dads, people with disabilities — it's more reflective of the Athens community and how disability is just one difference."  ~ The Red and Black article

The City of Atlanta's Elevate 2021 Art Festival: Revival generously funded the budding partnership between Pittsburgh Community Market and StoryMuse.
Intergenerational pairings of older, "legacy" residents and newer residents told stories about the Pittsburgh neighborhood's past, this extraordinary current moment in which we now find ourselves, as well as the stories they'd like to come true in the future. Although I coach manifesting stories as an individual coaching technique, this is the first time I'd had a chance to coach them to full performance, and for community visioning.
In total, we had sixteen storytellers who gathered for a collective process of workshops and individual coaching over the course of the month leading up to and then a marathon filming session the week before our show night by Tron Banks of Tronzai Media.
On October 30, 2021, the cast and team of Pittsburgh: Past, Present, Future warmly welcomed an audience to Pittsburgh Yards, a new work-live space built by the Annie E. Casey Foundation. The evening was originally conceived as an outdoor theatre, but Atlanta experienced a drastic change in the weather that weekend, which drove us inside. 
Before the show, I invited storytellers to make a sign and select a word or phrase that came from their story, words like, "community," "garden," "home." The cast gathered at the back of the performance space and moved through the audience with their signs, uttering their words/phrases aloud as they made their way toward the front. As they converged at the stage area, they began chanting the word, "home," all together. It was a powerful way to begin the show.
During the evening, audience members were asked to find someone they did not know and tell them a story about the past, present, or future they'd like to become true.
Read more, see more photos, and watch the film on the Pittsburgh page.
Other Events & Workshops in 2021
Casa Latina (Seattle)

Storytellers Macon

National Storytelling Network

The New School (Atlanta)

CalArts Arts Management Class

Virginia Tech

          -> Spring Virtual Residency Around Food Justice


         -> Fall Workshop with Pamplin Leadership Academy
Yep, three years and counting. I'm still working on my book, Walks with Grief. In some ways, this project has continued to languish behind other big work this year. In others, it started to take significant moves forward. Most notably, I received a travel grant from Alternate ROOTS to go to Ireland, where I will study public wakes and culture in general. I'm also now in two different writing courses / communities, which are helping me show up for this project with more structure and rigor than I ever have before. 
My walking practice itself has grown and expanded. I began having private invited Walks With Grief events earlier this year and have more recently begun hosting public events where we walk, write, meditate, and share.
If you would like to take a virtual walk with me, feel free to book time on my calendar.
I periodically post updates and resources to the Walks with Grief page on my website, as well as the dedicated WWG website.
I look forward to posting pics from my Ireland trip in this space this time next year. I can't predict what other news I'll have to share about the project itself because the world is just too unpredictable these days…
CELEBRATING FIVE YEARS OF STORYMUSE!!
In early 2022, we will have a proper party and storytelling show. Please stay tuned for details to come.
In the meantime, rather than try and shoehorn in a retrospective on the first five years of StoryMuse at the bottom of an already very full Annual Report, please just jump on over to a very special celebration page here!!!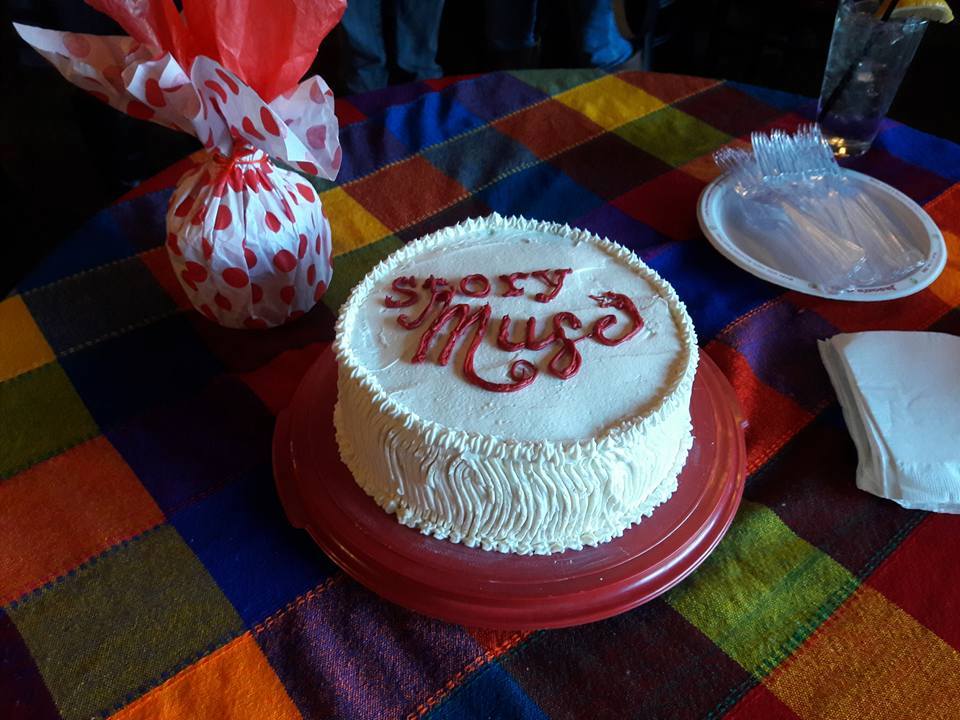 See you in 2022!!
Are you ready to work on a
personal…
professional…
organizational…
or community story
— together with me?