Earlier this year, I posted this picture to Facebook from closing on my new home. It became one of the most 'liked' photos I've ever published.
At the time, the image depicted the accomplishment of many years of yearning, overcoming fear that it meant I was giving up on future life partnership, months of searching for the right place, lots of support from my friends and family, all the negotiations and paperwork, and hurdling over many doubts about my ability to financially support this new adventure.
Now, I am so happy to tell you this image has taken on a new set of meanings for me.
We begin a poem

with longing

and end with

responsibility

And laugh all through the storms

that are bound

to come

~Nikki Giovanni
They say that buying a house is one of the most stressful times in a person's life. Having it come at the top of the year, I really thought 2016 would be a lot easier after making it through that rite of passage.
I was wrong.
The year has been all upside down and backwards ever since. I truly feel like Alice Through the Looking Glass. The most recent news, of course, being our changing political climate and all the havoc it could bring.
Yet, through all the maelstrom, a still small voice has grown clearer and clearer inside my head. That voice has been telling me it's time to stop ignoring my true calling…which is to be a storyteller.
I have loved the art of storytelling all my life. Grew up with it at camp, in school, took it with me to work at the YMCA, and now I have this wonderful community in Carapace, Atlanta's vanguard for the Second Renaissance of storytelling, as my friend Sarah Beth calls it.
I owe a great debt of gratitude to Carapace and the inspiration, the community, it has brought to me over the last nearly 7 years. I was very proud to be able to stand up before them tonight and announce my plans.
"A revolution that is based on the people exercising their creativity in the midst of devastation is one of the great historical contributions of humankind." ~Grace Lee Boggs
The folks at my job have graciously accepted my resignation. I will work until the end of the year in my current capacity, and then…
I launch my full-time practice, StoryMuse, in 2017. To include: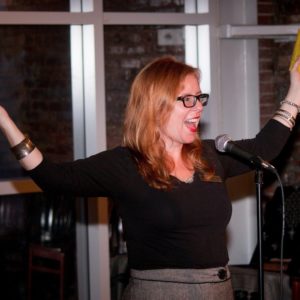 So, those keys from the beginning of my post now mean a few new things. They mean I'm unlocking my dreams, and, quite literally, paring down life such that my house key will also be the key to my office & professional life.
Also, like the closing day, I am hurdling over fear that this is the craziest thing I've ever done, I'm doing it with a great deal of emotional support from my friends and family, and it is indeed the accomplishment of many, many years of deep yearning.
Please stay tuned for more details to come, and thanks for all your support! (I may need you to feed me a meal soon.)