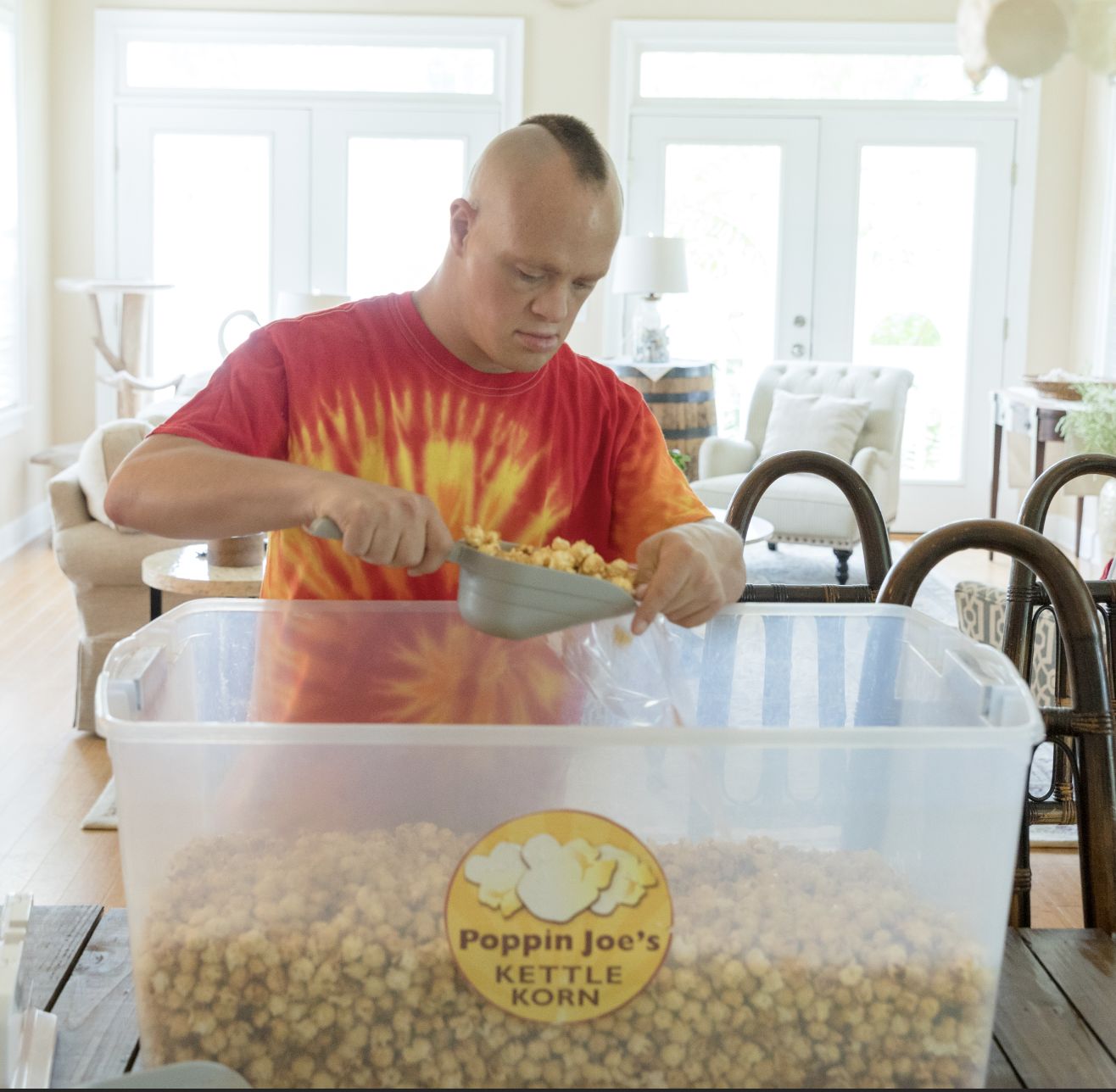 Just discovered this story from the 2018 GCDD Storytelling Project published on their website back in December. If you know how much I love popcorn, then you know how much I loved writing this story. I also got to bring a couple bags home with me!
Joe Steffy working in his popcorn businessAs Joe Steffy approached the end of high school, his family knew they didn't want him to be completely dependent on the government to live a good life of financial independence. Right about that time, his parents happened to be traveling in Anchorage, Alaska and saw kettle corn being popped at a festival. His dad started thinking – this is something Joe could do! He also knew that, because of Joe's autism and the way his brain works with appreciating routines and processes, it could be a great way for him to work and earn money. Grants from the Kansas Council on Developmental Disabilities, Voc Rehab and Social Security totaling $25,000 helped with start-up costs, including purchasing his first popping machine, a computer, and a laser printer. Thus Poppin Joe's Gourmet Kettle Korn was born. Since that time, Joe has re-invested his money and purchased four other kettles to expand his business. He also has three trailers to haul his equipment to festivals. 

Joe is a 32-year-old man with Down syndrome and autism. He is almost non-verbal, although with some encouragement he will say a few words. He spends part of his time here in Brunswick, Georgia with his sister and brother-in-law. He will eventually move here permanently. Joe previously communicated with the assistance of a device called a Dynavox Maestro. As he waits for his new device, he's getting by with sign language and facial gestures.
Joe has the Medicaid Waiver HCBS funding in Kansas and lives in his own home with a mentor who shares his home with him. When Joe is ready to transition fully to Georgia, he will lose his supports in Kansas and start them in Georgia. Jennifer says they hope to have an option for him to have self-directed services and enable him to live in his own place again with a mentor roommate. They also would want a day services support person to help him 20-30 hours a week to continue to establish and grow his business in Georgia. Joe requires someone with him round the clock, so additional supports will be needed as well. They are open to learning what Georgia programs will offer to him once he is here and assessed and ready to receive the services.
While the speech and language therapists have been a wonderful part of Joe's life, it's curious that Joe has become quieter over the course of his life. Jennifer says Joe is very tuned in to the expectations of others, and unfortunately, society often does not engage with him, nor expect him to have anything to contribute. With few people attempting to engage him in conversation, it has been easy to retreat and remain silent. His augmentative device can almost be a crutch, for when others know he has it, they assume he doesn't use words. "In my opinion, it is low expectations from the world around him that enables him to get by with little or no verbal communication. If you take the time and encourage him on, he can and will use words. The more we do that, the more we hear him."
Although he's settling into a routine living with his Georgia family, Jennifer and Trevor hope to find an independent living situation for Joe in the not too distant future. They think he would be really happy in a situation like he has in Kansas. Having independence is important and living in his own place means a lot to Joe.
Joe has had many opportunities to speak directly to legislators. He's already testified in Washington D.C. at the Small Business Congressional Committee Hearing and was the first person to present to congress with an augmentative device. He has also been the guest speaker at national conferences. He currently serves on the Kansas Governors Council on Developmental Disabilities and has helped advocate on Capitol Hill several times. If given the chance today, Joe would challenge local legislators to support small businesses and all programs that help others like him gain employment opportunities. Through his sister, Jennifer, he says, "We all have strengths and things we are naturally good at. Provide opportunities for those with disabilities to secure work, or to start their own business within their areas of strength."
Joe likes to be independent and loves to fly. Regarding the long, 18-hour drive that it takes to go back and forth from Georgia and his home in Kansas, Joe has his opinions. On his last road trip back to Georgia, Joe tapped his sister on the shoulder somewhere around Tennessee and made a gesture like a bird. She knew exactly what he meant: "Next time, we're flying."