Pittsburgh: Past, Present, Future
Press Release
Innovative, New Storytelling Project Helps Pittsburgh Residents Connect And Tell Stories of a Neighborhood's Enduring Change and Bold Future
SHARE THIS ARTICLE
ATLANTA, September 27, 2021 – Pittsburg: Past, Present, Future is an innovative, new storytelling project under the guidance of the Pittsburgh Community Market, which will culminate with a live, pop-up theatre at Pittsburgh Yards on Saturday, October 30 at 7:00p as a part of the ELEVATE Atlanta Arts Festival.
Led by artists Tron Banks (Tronzai Media) and Shannon M. Turner (StoryMuse), intergenerational pairings of older, "legacy" residents and newer residents will tell stories about the Pittsburgh neighborhood's past, this extraordinary current moment in which we now find ourselves, and the stories they'd like to come true in the future.
Pittsburgh has endured profound transitions from Black independent economic thriving in the early twentieth century, through a down cycle of poverty and violence, and now extraordinary growth and change. The BeltLine opens a new section there in mid-October, causing a lot of conversation, some fear about how the neighborhood might be negatively impacted by gentrification.
The Pittsburgh Community Market was slated to open last year but was delayed an entire year due to COVID-19. The organization is trying to rebuild momentum and help the community understand that the market is back. This project will help spark dialogue while demonstrating that the market is here to support them. 
Participants are invited to apply to participate in the cultivation and creation of their virtual and/or live stories through coaching and workshops by StoryMuse. Part of the process will involve "story walks," where the intergenerational pairings will walk the Pittsburgh neighborhood, which will be recorded by Tronzai Media.
Tron Banks, co-lead artist, activist, as well as Founder/Co-Director of the Pittsburgh Community Market, says: "Through bringing legacy and newer residents together for meaningful conversations through storytelling, we hope to ease tensions around the redeveloping Pittsburgh Community and inspire hope in the bright future before us."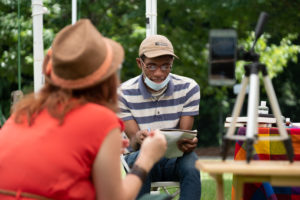 "Storytelling has a fundamental power," said Shannon M. Turner, Founder & Creative Director of StoryMuse (and co-lead on the project). "It transmits embedded values and has the ability to set the course for where we'll go. Past generations lived through times that are the stories we tell each other now. The stories we tell today help us shape our future." Pittsburgh: Past, Present, Future is the first project of StoryMuse's longer-term storytelling initiative, Live. Work. Space.
The culminating performance–a free, live, outdoor, pop-up theatre at Pittsburgh Yards on Saturday, October 30 at 7:00p–is a part of the ELEVATE Atlanta Arts Festival. More information and event reservations can be found here.
* * * * *
About The Pittsburgh Community Market:
Members of the Pittsburgh community in Atlanta offer a Farmers & Makers Market in SW Atlanta at Pittsburgh Yards. The Market opened early Summer 2021 and is held Saturdays from 10am-2pm. They feature farmers, food-makers, artists, and makers of all types from SW Atlanta and beyond and are still actively soliciting new vendors.
https://www.pittsburghcommunitymarket.org/
About Pittsburgh Yards:
Pittsburgh Yards® is an unprecedented opportunity to spur economic equity, job growth and entrepreneurship for residents of Neighborhood Planning Unit V (NPU-V)—and other southwest Atlanta neighborhoods. It's more than a development project. It's a transformative, community-led catalyst to positively impact residents and entrepreneurs for generations to come. Located near many of the city's major redevelopment projects, this 31-acre site is part of an area that is in the midst of realizing its significant promise for the neighborhood. Once complete, the hope is that Pittsburgh Yards will be a vibrant space where residents can work, create, shop, play and inspire.
https://www.pittsburghyards.com/
About StoryMuse:
StoryMuse provides unique strategies for personal, business, organizational, community and content development—everywhere it is needed. Shannon M. Turner, StoryMuse's Founder and Creative Director, is an independent consultant who conducts workshops and provides coaching to individuals and organizations seeking to use true, personal stories for transformative potential.
https://storymuse.net/
About the ELEVATE Festival:
ELEVATE: REOPEN, REIGNITE & RECONNECT will take place on weekends now through October 31. In partnership with art galleries, museums, theaters, performance venues, restaurants and bars, the public art festival will help ignite interest in arts and cultural events in communities across Atlanta. Southwest Atlanta, where Pittsburgh resides, will be highlighted October 29-31.
https://www.elevateatlart.com/
Media Contact:
Shannon M. Turner, smtstories@gmail.com, Tel: +1 678.837.6681
Related Links
In Southside neighborhood, a new model for development on the Beltline (AJC)
Pittsburgh community: Is green truly the new Black? (AJC)